What is Adf.ly?
First of all, Adf.ly is the best URL shortening service and you gain money if a user click on one of your links.
When this happens, the user will see an advertising page and a countdown at the top of it. When it reaches the 0, the user will proceed to the real destination page.
Here is a more verbose description of how Adf.ly works:
AdF.ly is an innovative service that allows you to earn money from each visitor to your shortened links. How this works is actually quite simple.
Create an account with AdF.ly by clicking the Join button on the Adf.ly homepage, make sure you select a Publisher account.
You will then need to check your email for the account confirmation, please follow the instructions in the email.
Login to your new AdF.ly account.

Enter your favourite website in the big white box and click Shrink!
Your first AdF.ly URL will be displayed and will look something like:
Now that you have an AdF.ly URL that is associated with your account, the work begins.
You will now be paid for every person that clicks on your AdF.ly link, so you need to give it maximum exposure.
It doesn't matter if you don't own a website, there are plenty of other ways to get people clicking on your AdF.ly links (without spamming!).
I'm writing this article because I want to show you how easy is to make A LOT OF MONEY with the power of the WEB!
There are a lot of easy way to earn money simply sharing links and I will list the best ways to earn money with adf.ly below!
Remember to register to Adf.ly first:
CLICK HERE TO REGISTER ON ADF.LY
How to make money with Adf.ly?
This is the cool part: MAKING MONEY WITH ADF.LY!
I will list below the fastest way to make easily a lot of money with this great URL shortening service.
1) SOCIAL NETWORKS! 
Yes! Social Networks are the best way to make money so far: every day, millions of people spend hours and hours on social networks so we can easily take advantage of this. How? Pretty easy. If you use Facebook, for example, share links on your profile, on your home, you can put links in the comments too! 
You may ask: Yes but.. how can people click on my links? The answer is: find somethink interesting of course: post shocking news, link to funny videos, share content and do everything which yourself would click! For example: SHOCKING! ZIPPYSHARE JUST LOST 70% OF THEIR VISITORS AFTER GOOGLE UPDATE! or: MICHAEL JACKSON IS STILL ALIVE! HERE'S THE PROOF!
Free your imagination and link very attractive articles and you will get a lot of clicks! Also, ensure you have the higher possible number of friends, to increase chance to get clicks!
2) LINKS ON YOUTUBE!
Putting adf.ly link in Youtube is the second best way to get revenue! Upload a funny video, or share files thru youtube (e.g. "Download Watch Dogs for PC!"), uploading a short video and putting the Download link in the description, of course the SHRINKED link ;).
Sometimes this method can give you much more money than social network url sharing, especially if you have less than 1000 friends/followers on your favourite social network.
3) MAKE A WEBSITE!
This is the most expensive way to make money. As you know, a website costs money but, if you decide to own a website (you can use HOSTGATOR for example) and you have skill to make a popular website, you can make money very easily with it, sharing files or making the entire website adf.ly-friendly! How? You can add a script provided by adf.ly to your website so, everytime a user click EVERY LINK, it is automatically converted to an adf.ly link!
4) POST ADF.LY LINKS ANYWHERE YOU NORMALLY POST LINKS!
Use your imagination and be paid every month.
The proof it works.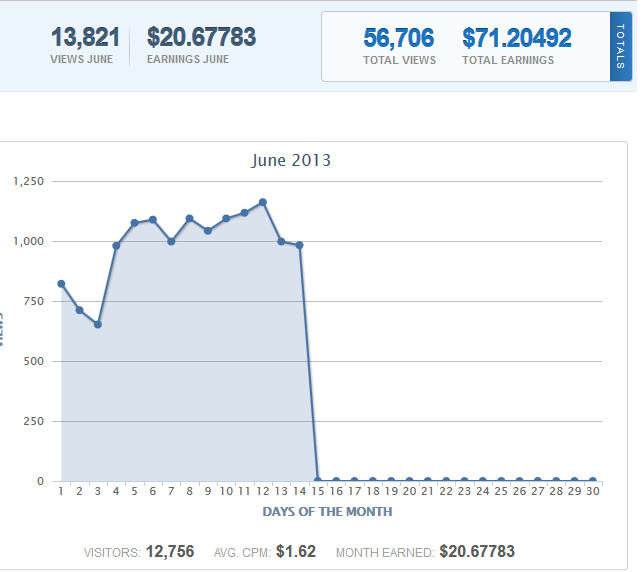 As you can see, with less than 2 hours of work, in 2 weeks you can earn more than 20 dollars! If you spend more time like for example 2-3 hours a day, you can earn up to 3-400 dollars every month! So what are you waiting for? Register now at adf.ly and start earning money!
There are of course more ways to make money with Adf.ly but I found them to be the most efficient. If you think there are better ways to make money using adf.ly, please feel free to share them with us!